So you're finally engaged! Congratulations! …Now What? Maybe it was a long time coming or maybe it caught you completely off-guard. Either way- you now have a wedding to plan.
The first thing people will ask you is, "When is the wedding?" If you're like me, your first thoughts are somewhere along the lines of "I don't know! This just happened five minutes ago, can you give me a break?"
I've compiled a few tips to help begin the wedding planning process as well as process your engagement and focus on what's important.
You have every right to enjoy this engagement period. It's an exciting and pivotal moment in your relationship- you're not yet married but you know that you are going to spend the rest of your life with this person. You probably won't be this carefree for a long time. Do fun things together, with your families and friends. Revel in it!
First things first- talk to your fiancé. Remember this is his wedding too (although you may have been secretly planning it for awhile.) You both need to figure out what aspects of the wedding are important to the other person and use this to decide when and where you'd like the wedding, who you want to invite, and what the overall style of the wedding will be.
Compromise- You want to elope and he wants a 500 person extravaganza? Well, someone might not be happy in one of those scenarios. Maybe you can opt for a small intimate ceremony somewhere else and have a large reception at home. A lot of people will have input in your wedding festivities, so make sure you and your groom are on the same page and more importantly- on the same team.
Gather Ideas and Get organized– If you don't have one already, make a Pinterest inspiration board for your big day. Cut out photos from magazines, scour wedding blogs and websites. Set up a wedding folder in your email to make sure contracts and documents don't get lost in the chaos.
Determine your budget- It's important to find out what your wedding budget will be and who will be contributing right away. This will establish everything from your guest list to your venue. "As little as possible" is not a budget. Be realistic. Really, no planning can be done until you figure this out.
Pick a wedding date– If you can't pick a date, at least pick a season. Look for your reception and ceremony sites. When you find the right one, their availability can determine the date for you!
Breathe- stop thinking about small details like where Nana is going to sit in the church and what the cake topper is going to look like and focus on the bigger picture. This is not just a wedding, it is the beginning of a marriage. At the end of a crazy year focused on every little insignificant detail, at the end of an exhausting day filled with food, fun, dancing and laughing—as long as you're married it will have been a success.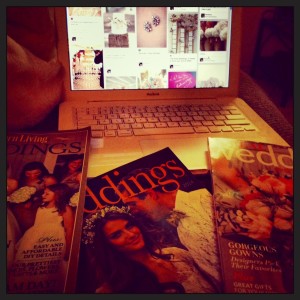 For more wedding ideas- you can visit the Sophisticated Woman "Sophisticated Weddings" inspiration board here. And look out for the March "Everything Bridal" issue of Sophisticated Woman Magazine!