Time Well Spent
Every year, Dr. Kevin Darr, his wife, Mary, and their blended family of seven children take a trip to a national park or preserve. For a full week, they spend time with the people they love, enjoying things they love—hiking, biking, kayaking, swimming and fishing. Being able to celebrate all the activities in life is what Dr. Darr is all about.
As an orthopedic surgeon and a visionary in cell therapy, Dr. Darr's sole mission is to give his patients the ability to enjoy the things they love. Whether it is a professional athlete recovering from a sports-related injury, a weekend warrior training for a marathon or a patient in need of a joint replacement, Dr. Darr employs a variety of surgical and non-surgical therapies in his practice.
Dr. Darr is in his third year of treating patients with a combination cell therapy regimen, which builds on his six years of experience in successful Platelet Rich Plasma (PRP) treatments. Combining PRP with mesenchymal bone marrow cells and fat grafts, the therapy utilizes a patient's own (autologous) cells to stimulate healing.
Cells are harvested from three sites in Dr. Darr's office under local anesthesia with minimal discomfort. These cells are later injected into tissue damaged by conditions such as osteoarthritis, ligament and tendon disorders and avascular necrosis. Moreover, his certification in Musculoskeletal Ultrasound enables him to use this ultrasound technology to ensure that all injections are made to the precise location of damage.
Combination cell therapy has also been highly effective in repairing damaged bones in conjunction with micro-fracture techniques. Dr. Darr drills holes in areas with the most arthritic wear to promote bleeding and then several weeks later injects a combination of cells to help heal lesions. "The results we are seeing from these treatments are outstanding," Dr. Darr said. "Cell therapy is a game changer. It's the biggest thing to happen in orthopedics since the arthroscope. 92 percent of patients treated get some level of relief through cell therapy."
In fact, an assessment of osteoarthritis patients undergoing combination cell therapy for the knee show an average of 41 percent improvement in Visual Analog Scale (VAS) for pain after one year. Function is also improved dramatically after one year with 47 percent overall improvement and double digit improvements in activities such as walking on a flat surface, going up and down stairs and getting in and out of a car.
Dr. Darr explained that because cell therapy harnesses the body's own ability to heal itself, it can be used independently or to accelerate recovery following surgery. "Not all therapies work for all patients. What is so exciting is that we have the ability to combine surgical and nonsurgical techniques to provide the best possible outcomes for patients."
Cell therapy is just one the tools available to Dr. Darr and his team of nurse practitioners, nurses, techs and support staff. State-of-the- art technology such as ARP Wave™ is often used to prevent and treat muscle atrophy by emitting a series of external bio-electrical currents to increase blood circulation, promote muscle relaxation and improve and increase a patient's range of motion.
"Every step I have taken in my career has been to bring my patients cutting edge options—both surgical and nonsurgical. It is my vocation. I have never been as excited in my career as I am right now. It is so very gratifying to see our patients improve to a level not seen before," he said.
Dr. Darr does more than play an integral role in the recovery and rehabilitation of his patients—he is involved in their overall health as well. "When it comes down to it, I am not just treating a shoulder, hip or knee. I'm treating the whole person," he said. "Helping my patients become healthier in order to prevent or reduce the risk of injuries is just as important to me as restoring health after an injury occurs."
The DEXA (Dual energy X-ray absorptiometry) Scan is useful in identifying osteoporosis, overall muscle strength and body composition, as well as serving as a predictor of bone fractures throughout the body. Dr. Darr explained that this technology enables him to identify where patients are prone to storing fat, pinpoint muscle weakness and identify muscle imbalances that can be corrected with proper training.
Dr. Darr's practice not only offers advanced diagnostic labs to help with nutrition and weight loss—it also offers a nutritionist on-site to provide ongoing support and assessment. In addition to dietary supplements to address nutrient deficiencies and aid in healing, there is also the GenoVive™ weight loss system. Revealing a genetic profile for key markers related to nutrition, fitness and behavior, GenoVive customizes a diet and exercise program based on an individual's own DNA.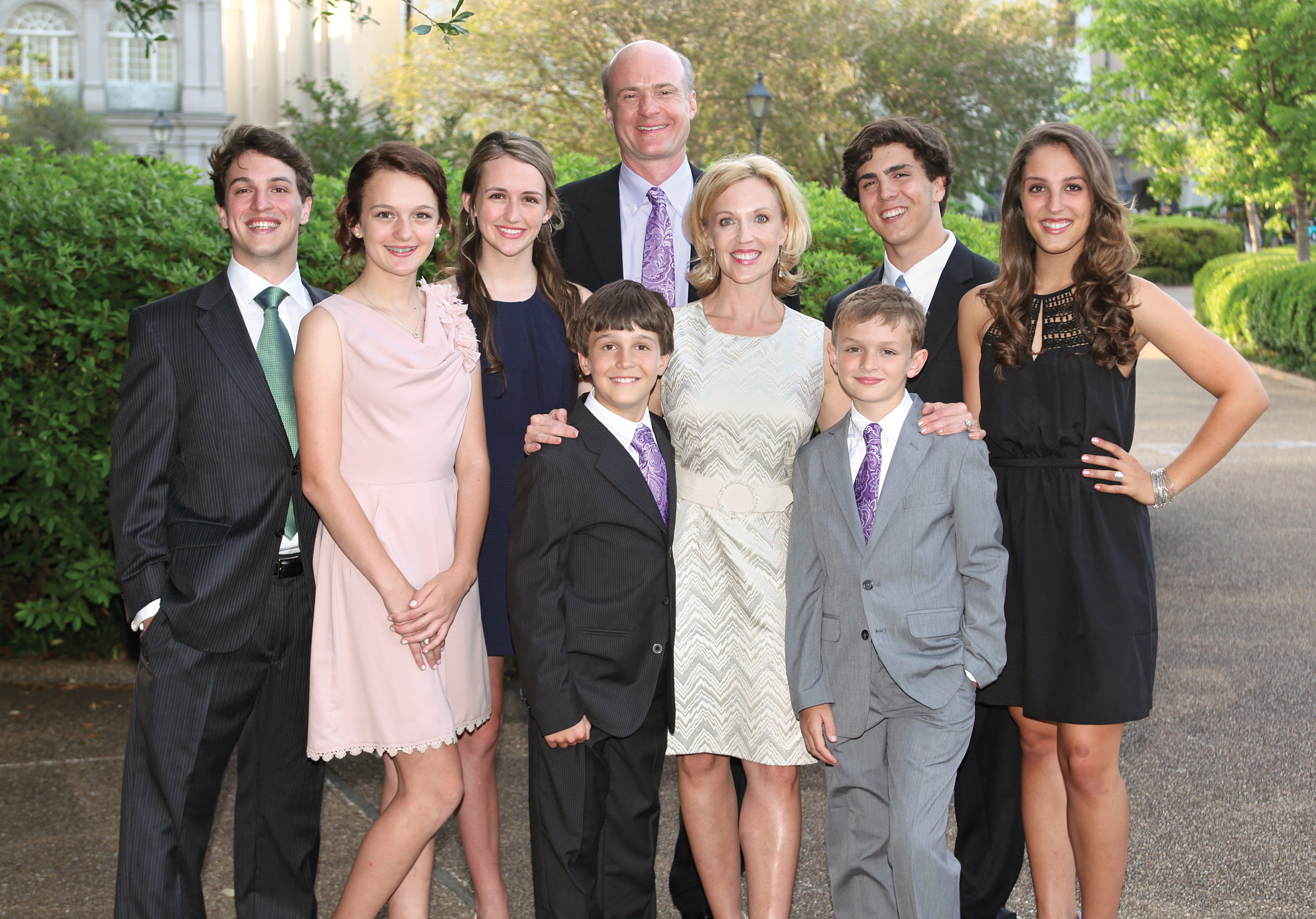 Believing that health and healing is innately tied to nutrition and exercise, Dr. Darr practices what he preaches. His active lifestyle includes long walks with the family's beloved Golden-doodle, Belle, along with Pilates and Yoga. He and his family eat healthy, organic meals that often incorporate seasonal fruits and vegetables they've grown from their own garden. Yet, the most important part of their dining routine is not the food—it's the commitment of the family to share dinner together as often as possible.
"Being able to spend quality time with Mary and the kids around the dinner table is a gift," he said. "Our children range in age from 28 to 13, so we are acutely aware of how special it is to spend quality time with each and every one of them. I love being a husband, a father and a surgeon. I am very blessed to be all three."
Kevin F. Darr, MD is board certified in orthopedic surgery, sports medicine, musculoskeletal ultrasound and  regenerative  medicine. His office is located at  19343 Sunshine Avenue in Covington. For more information, call  985-327-2230 or visit his website drkevindarr.com.