MEMBERS OF SLIDELL Women's Civic Club all share one thing in common— they want to be of service in the community. With a host of volunteer opportunities to support organizations in the community, SWCC has become a "go to" resource for volunteers.
Anyone attending a fundraising event in Slidell has most certainly had contact with a member of SWCC. Among the activities and community projects SWCC members have promoted through their support are: Keep Slidell Beautiful, East St. Tammany Rainbow Child Care Center's My Girlfriend's Closet, East St. Tammany senior citizen assisted living centers and nursing homes, Mount Olive Feeding Ministry, Family Promise, Slidell Boys & Girls Club, East St. Tammany Habitat for Humanity, Women's Health Alliance, Christmas Under the Stars, Slidell Memorial Hospital and a smorgasbord of cook offs held throughout the year.
The SWCC has been active in the Slidell community since 1947 when it was founded by Mesdames Anita Breisacher, Blanche Carroll, Virginia Madison, and Peggy Sollberger. The organization was incorporated in 1951 as a nonprofit with the mission of fostering civic, welfare, cultural and social interests. One of the group's first endeavors was to construct a park for the children of Slidell. To raise funds, members went door-to-door selling mops, brooms and cleaning supplies.
Today, members pay annual dues and must attend five of the group's 10 yearly meetings as well as participate in club activities and volunteer throughout the community. A minimum of 20 hours of community service per year is required, though most surpass that number, investing hundreds of hours to help the greater Slidell community.
The annual dues collected from members also are returned to the community through projects such as the club's annual Christmas Giving Program. A highlight of the year of service, the Christmas Giving Program provides Christmas gifts for families facing financial hardships. Scholarships also are awarded to students who demonstrate civic responsibility, as well as women seeking to better their circumstances through continuing education.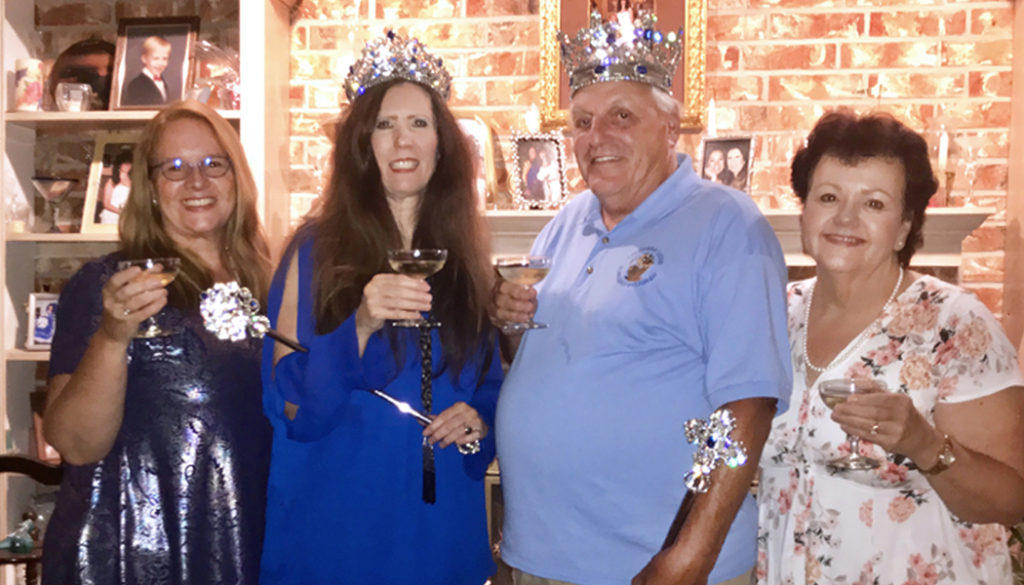 During 1951, the SWCC hosted its first Krewe of Slidellians Mardi Gras ball. The ball honors civic leaders and Samaritans in the community. The Royal Court, composed of maids and dukes, are selected from civic organizations throughout the community who have demonstrated community spirit and leadership. In 1961, members witnessed the arrival of the Krewe of Slidellians' first Mardi Gras parade, presented as a means to advertise the organization's ball and enhance the social and cultural dimension of the women's organization. Both the parade and ball remain open to the public.
The highlight of the Krewe of Slidellians ball is the crowning of the organization's Queen and King, who are nominated and voted upon by secret ballot during the SWCC's September meeting. Historically, the identities of the queen and king have been kept a closely guarded secret until the night of the ball. A new tradition was born this year when the organization decided to announce its royalty prior to the ball. This enabled the organization to further celebrate their royals and invite the community to join them in doing so through their attendance at the ball. Barbara Doyle and Eugene St. Jean will be crowned Queen and King Samaritan LXIX at the 2019 Krewe of Slidellians ball, themed "Birds of a Feather."
Barbara Doyle is an example of leadership and community service in action. She is currently a Board Member of Christian Community Concern, an outreach program that supports the homeless and needy in the community as well as providing temporary housing for homeless men. She is Vice- Chairwoman of the Slidell Memorial Hospital Advisory Board. She is a member of the Slidell Memorial Hospital's Women's Health Alliance. Doyle is the Committee Chairwoman for the Bill Lowry Service Above Self Paul Harris Award (an award bestowed through the Rotary Club of Slidell). She is one of the founding members of the Olde Towne Pumpkin Festival, a family festival benefiting East St. Tammany's Rainbow Child Care Center. And she just so happens to be a member of SWCC, though membership is not a requirement to be selected queen. Doyle is a member of the Rotary Club of Slidell where she has served as president and secretary. She served on the Board of Directors for the East St. Tammany Chamber of Commerce and is currently a member of the Ambassador's Committee.
Eugene "Gene" St. Jean is yet another example of leadership and community service in action. Gene became involved in various civic and charitable and community projects upon moving to Slidell in 2004. As a member of First United Methodist Church, St. Jean volunteers with the Feed Dat Food Program Ministry, providing food to more than 300 Slidell families each week. He volunteers with the Methodist Men's Army, which goes to disaster-affected areas and helps residents restore their homes. He is the Secretary of the Slidell Noon Lions Club, and has held various other positions with that organization, including president, vicepresident and treasurer.
Dear to St. Jean's heart is the Cub Sight program that visits daycare centers and schools throughout St. Tammany Parish, screening children's eyes (ages 6 months to 6 years) for abnormalities that can be corrected and possibly cured so glasses are not needed. Additionally, St. Jean is an active volunteer with Keep Slidell Beautiful and was instrumental in the development of the Camellia Farmers Market.