Kelly Burkenstock, M.D.
Skin • Body • Health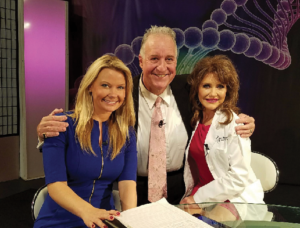 DR. KELLY GILTHORPE BURKENSTOCK M.D., M.B.A., is the founder of Skin • Body • Health, the Age Gracefully Institute. As a medical specialist with extensive international training in anti-aging, skin rejuvenation, and hormone medicine, her passion is to empower clients to look fabulous and feel phenomenal at any age. Her work encompasses cutting edge DNA-derived solutions for skin, weight, mood and aging issues. Her New Orleans style shines through—charisma, spice, and genuine charm offered to friends and clients alike. Dr. Burkenstock is also drawn to serving those who are less fortunate or overburdened: she supports the Safe Harbor Domestic Violence Foundation, the American Heart Association's Go Red movement, breast cancer research, and delivers lectures in the local community and out of state. She lives by Robert Ingersoll's truism, "We rise by lifting others."
Patients routinely come from across the region—and even across the globe—to benefit from Dr. Burkenstock's personal expertise and international training. With her genuine charm and compassionate care, she helps her patients overcome some of the most delicate health issues often related to aging such as hormonal imbalances and male menopause, erectile dysfunction, weight gain, skin aging and varicose veins.
"Dr. B", as her clients lovingly refer to her, truly believes in loving your body from the inside out. "Physical issues can affect how you feel and emotional issues can affect how you see yourself," she explains. Dr. Burkenstock's results speak for themselves, however, her patients insist on singing their praises to describe the impact she has made on their lives.
The Role of IV Amino Acids, NAD and Vitamins
Research by Harvard professor and Nobel prize winner Dr. David Sinclair, showed vitamins like NAD revive older cells and make them energetic and youthful again. Medical research has shown the combination coenzyme and NAD protocol to improve Aging, depression, alcohol and drug addiction, sleep disorders, ADD, Parkinson and memory loss. The custom IV vitamin treatments have been referred to as "The Anti-Aging Neuron Elixir."
One such patient, A.C., traveled from outside the country specifically to receive treatment from Dr. Burkenstock. "I turned 65 this year and decided to do something for myself and it's been a Godsend," he commented. A.C. sought out Dr. B to receive a custom IV amino acid, NAD and vitamin regimen, a program that Dr. Burkenstock is extremely excited about as an Anti-Aging strategy.
"The first thing I experienced was a more restorative sleep," the patient explained, "My mind is more under control and I plan to be back in February for a booster."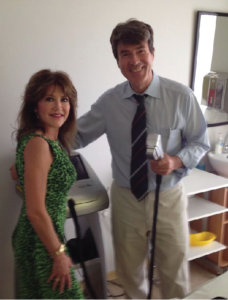 DNA, Food Allergies and Weight Loss
Another innovative treatment protocol that Dr. B is utilizing to help her patients feel better from the inside out is DNA analysis. DNA results point a clear direction to help people lose weight, replace vitamin deficiencies and avoid foods that may cause weight gain and inflammation. "Inflammation equals aging," Dr. B explains. The test assesses 22 genes in a patient's DNA to identify how a patient metabolizes carbohydrates, fats and proteins.
Patient Hope G. said the insights from her DNA assessment helped achieve more than initial weight loss, it changed her life. "It helped develop my plan for eating in the future and also working out."
Dr. Burkenstock's DaretoBeThin® program begins with her Jump Start Juice™ detox and cleanse in order to reset a patient's internal thermostat and continues with a customized plan of diet and exercise based on the client's DNA results. Also, a 200 food allergy blood panel is available to identify foods that may be counterproductive to a diet regimen. "People will often become frustrated, thinking they are doing the right thing by eating healthy food. Yet, if they are allergic to certain foods, they are going to end up feeling worse, not better," Dr. Burkenstock explained. "I have one patient who was eating a spinach and egg white omelet every morning and feeling awful. We discovered she was highly allergic to both eggs and spinach and adjusted her diet accordingly. She felt benefits almost immediately."
Probiotics and Skin Health
While a shocking food allergy could be the cause for irritability or weight gain, bacteria in the gut could also be to blame. "The body's second brain is the gut, it's responsible for much more than intestinal discomfort, bloating and constipation. Bad bacteria actually emit toxins in the body that can cause moodiness as well as create rashes, acne and other annoying skin conditions," Dr. B explained. She recommends the use of refrigerated prebiotics and probiotics to restore the good bacteria in the gut.
Lisa N., a patient of Dr. Burkenstock, said she could not believe the change that the live prebiotics and probiotics had on her wellbeing. "All of a sudden you are feeling better. People are telling you how much better you look and you're acting better, just all around. Life's more fun," she praised of Dr. B's program.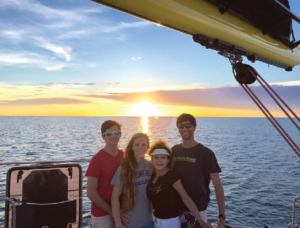 Thyroid and Hormonal Dysfunction
Hormone imbalance is more than a menopausal issue. Imbalances can occur in men and women during many stages of life, causing emotional and physical symptoms including depression, weight gain and low energy. Dr. Burkenstock offers natural hormone therapy for both men and women to restore hormones to optimum levels.
In addition to estrogen, progesterone and testosterone, hormones are also generated in the adrenal, thyroid and pituitary glands. Thyroid hormone imbalance is a common source of discomfort for many patients like Holly B. Suffering with dry skin, fatigue, decreased concentration and energy, Holly sought help from Dr. Burkenstock. After taking thyroid hormones to stabilize her levels, Holly said she noticed improvement both internally and externally. "I started being more energetic, I had clearer skin, and I didn't have the puffiness in my face anymore."

Skin Rejuvenation Treatments
Both men and women seek Dr. Burkenstock's renowned talent and artistry to look and feel their best. With facial treatments, such as platelet rich plasma (PRP), "The Kim Kardashian Facial", fillers, Botox® and lasers, Dr. Burkenstock can provide face and neck rejuvenation with little to no down time.
Recently, client Greg R. added "Bro-tox" to his face and filler to his lips to achieve a more youthful look. He applauded Dr. Burkenstock's care and attention to detail in his facial procedure, explaining, "Being that I shoot models and I'm out in the public eye all the time, I want to look as good and as young as I can."
Dr. Burkenstock explains that her passion is to empower her clients and ensure that they look fabulous, feel phenomenal and achieve optimal health at any age. She brings a holistic, anti-aging approach to healthcare and a dedication to her profession and to her patients.
Dr. Burkenstock's Skin • Body • Health is located at 2040 N. Causeway Blvd. in Mandeville and 3841 Veterans Blvd. in Metairie. For more information, call 985-276-9085 or visit SkinBodyHealth.com.