Legal Savvy with a Personal Touch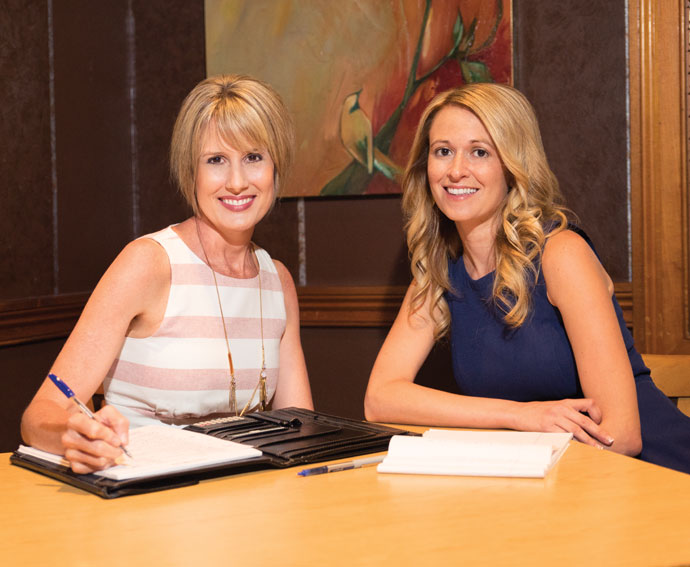 THE MINUTE YOU WALK into the 100-year old Covington cottage, you know it is not your ordinary law office. Founders Buddy and Annie Spell of the Spell & Spell Law Firm recognized the tumult that people go through when they are in need of legal services so they created an environment that immediately puts people at ease. From cozy chairs, an eclectic array of primitive art, warm rugs and a fireplace adorned with various knick-knacks, the attorneys work in an area more akin to a living room than a conference room.
This year, the firm brought in two additions that enhance its mission to provide competent counsel in a comfortable environment—attorneys Tara Zeller and Jessica Karr. Their diverse experience and areas of focus  not only increase the firm's capabilities in the areas of criminal law and plaintiff litigation, but also allow expansion into all aspects of family law, including divorce, custody and adoption.
Previously a staff attorney for two local judges, Tara has spent a majority of her career on the Northshore. Tara always had a lot of respect for Buddy, watching him defend his clients in the courtroom for over 11 years. She and her husband Ricky also developed a long-standing friendship with Buddy and Annie. Therefore, it was not a total surprise that when her family returned to the area last summer, Buddy immediately began talking to her about joining the practice.
"I started helping with his criminal caseload in the fall. It just naturally morphed into a full time position over the following months. We formalized things in January, when I became an official member of the firm," Tara explained. "It was an easy transition, mainly because we share the same professional philosophy. We both have a strong desire to help people through some of the most trying times in their lives."
Tara said that she is able to bring a unique perspective to her clients because of the time she's spent behind the scenes as a judicial staff attorney. "The work I've done with helping judges prepare their dockets certainly helps during the pre-trial process," she said.
According to Buddy, this experience, coupled with the sheer number of trials she's seen go through the system, makes her an asset to her clients. "While I have tried a lot of cases in my career, Tara has touched so many more. She has experience in spades."
Tara has also taken the lead in litigating plaintiff's personal injury cases. "Again," she says, "our clients have sustained personal injuries and financial losses. We strive to give them options for a positive resolution for the trauma they suffered."
With the criminal side of the practice in order, Spell & Spell expanded its capabilities into family law with the hire of Jessica Karr in May. Focusing on all aspects of family law, Jessica was recently named the Northshore's Best Attorney by Sophisticated Woman readers.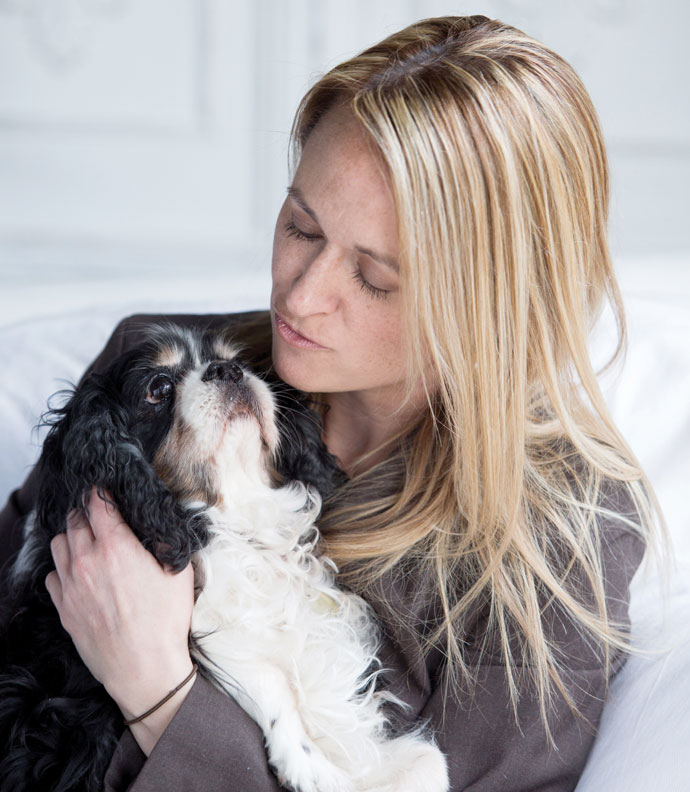 Rarely seen without her beloved dog Kingston by her side, Jessica said she is passionate about working with families. "Whether it is through finalizing an adoption or helping divorcing parents come to terms with a custody agreement, I try to bring hope and healing to my clients."
Jessica explained that she works to take some of the emotion out of family disputes, so that progress can be made without undue harm to the parties involved. "I try to identify options for a swift resolution. It is my job to ease the stress and tension of a painful divorce or custody dispute."
While most modern women struggle to balance career and family, both Tara and Jessica say that working at Spell & Spell has provided the perfect fit. "We are all friends here. Not only do we enjoy one another's company, but our families enjoy one another as well," Tara said. "The team approach that we bring to our clients is a natural offshoot of the approach we have with each other. It is more than a mutual respect—it is a genuine affection."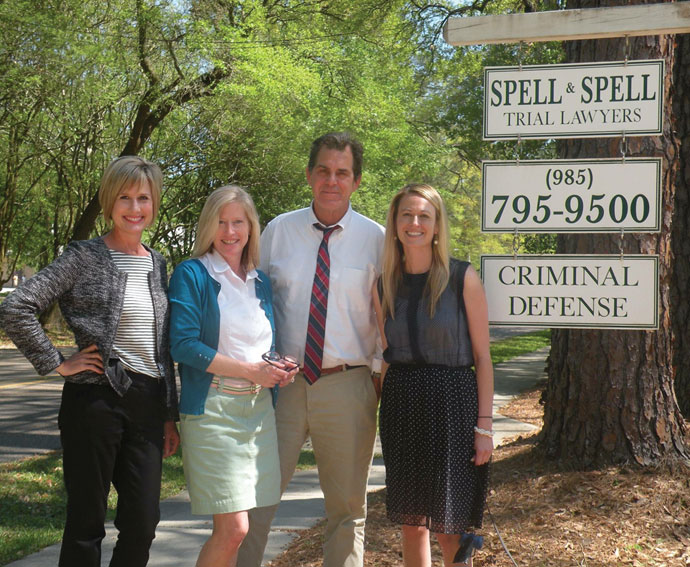 Buddy noted that the addition of Tara and Jessica to the Spell & Spell team was the biggest decision he and Annie have made, aside from opening the practice in the first place. "I didn't know if we could accommodate other attorneys in a world that we had so specifically built for ourselves. It took a huge amount of trust. But we both knew that we had found something special," he said.
"They both have an innate ability to put people at ease, not just because they are well qualified, competent attorneys but also because they are down-to-earth people. There is no judgment, just a sincere respect for our clients beyond a name and a case file."
Buddy Spell, Tara Zeller and Jessica Karr's practice, Spell & Spell is located at 1225 North Columbia Street in downtown Covington. For more information, you can call 985-795-9500.