COLIN AND CHRISTEN Shea's eclectic style seamlessly combines the old and the new, which perfectly suits their renovated home, built in 1902 in downtown Covington. The previous homeowners added a second-story to the home, increasing the living space from 2-bedrooms to its current 5-bedrooms, in the same style as the original home.
When the Sheas moved in one and a half years ago, they set out to make this house their home, one room at a time. Somehow, between their full-time jobs and two adorable children, they made time to paint each room by hand, renovate a kitchen, build a dining room table and even reupholster a chair!
"The entire house is always a work in progress," says Christen. "Either the furniture was given to us, found or refurbished. Actually, the couch in the living room is the first real piece of furniture I've ever bought!" Each room in the house and every piece of furniture in their home has a story behind it, making for an inspired and harmonious home full of character.
The dining room table is a perfect example of Christen and Colin's well-matched reno-teamwork. Christen came up with the idea for the table base (made with steel pipes) and Colin milled the table-top out of beautiful reclaimed heart pine, salvaged from an old cotton warehouse. "It was so heavy it took 6 people to carry just the table top in," laughs Christen, "It's not going anywhere for a long time."
The Sheas are expecting their third baby in March, which initiated some brand new transformations in the home. They moved the master bedroom downstairs and re-designed the front room as a nursery. The nursery's herringbone wall design was hand-taped and painted by Christen. Like the rest of the house, it was put together organically, one find at a time.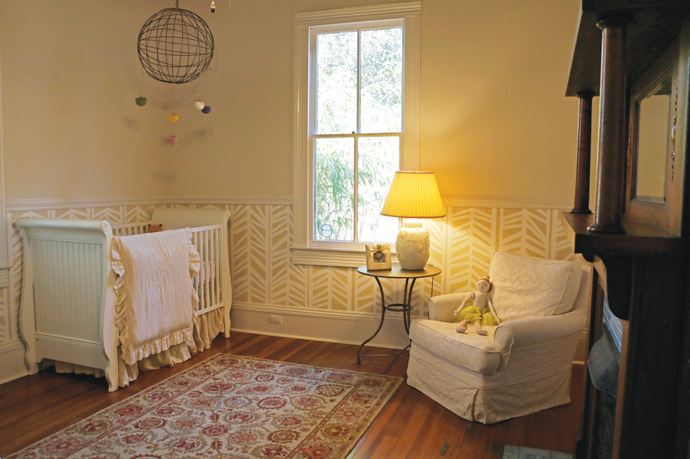 ---
---