Traveling along with the CAFL football league
WRITTEN BY HARLEE KAUFFMAN
MICHAEL FELDMAN, North Shore lead physician at Ochsner Health System, recently returned from China after serving as a team physician for the Professional Chinese Indoor Arena Football League's (CAFL) inaugural season of U.S.-style football.
Feldman was one of two physicians who, in collaboration with a team of athletic trainers, were responsible for providing orthopedic and medical coverage to the athletes, coaches and staff while traveling with the league to their different venues. The league was comprised of six teams, representing Beijing, Shanghai, Quingdao, Dalian, Guangzhou and Shenzen. Each team was comprised of 22 players, half Chinese athletes and half American athletes.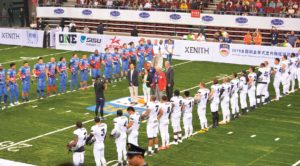 The historic league is the brainchild of very successful businessman Marty Judge, owner of the Philadelphia Soul of the Arena Football League. Judge teamed up with partners and NFL greats Ron Jaworski and Dick Vermeil to launch this professional sports league. Dr. Feldman is a board certified, fellowship trained orthopedic surgeon with a Certificate of Added Qualification (CAQ) in Sports Medicine. He has a special interest in arthroscopic and minimally invasive surgery of the hip, knee, shoulder and ankle. While a clinical assistant professor at Brown University, he earned the Dean's Excellence in Teaching Award twice.
Dr. Feldman is currently an associate professor at the University of Queensland/Ochsner Clinical School. Additionally, he is associate editor of Arthroscopy: The Journal of Arthroscopic and Related Surgery. Feldman is a past recipient of the prestigious Stephen J. Snyder Excellence in Teaching Award from the Arthroscopy Association of North America(AANA), which is given annually to one physician to recognize outstanding teaching that embodies AANA's mission to promote and foster the professional development and knowledge of arthroscopic surgery.
Michael Feldman, MD, Serves as Team Physician for the Professional Chinese Indoor Arena Football League