Passionate About Taste
Pemmie's career path has taken a winding route—virtually circling the globe to where she is today. Spending the majority of her career in corporate sales, Pemmie decided to chase her dream of owning her own business. With Oil & Vinegar, she has combined her passion for food, her love for family and her commitment to helping those in our community.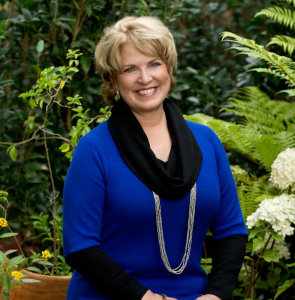 "I believe that home is the heart of the family and the table is the heart of the home. At Oil & Vinegar, we can help make the experience at the dinner table even better. From entertaining friends to making a simple meal on the go, we want to give people the confidence and freedom to experiment with food. Many times, we see people who want to learn how to cook but are too intimidated to ask for help. Oil & Vinegar allows people to achieve a gourmet taste without gourmet training," says Pemmie.
While the store is a departure from the corporate America in which Pemmie spent more than 30 years, she has taken the lessons she's learned and the experiences she's had and applied them to all aspects of the store—from internal operations and employee management to customer service and outreach.
"Throughout my career, I have been willing and able to accept new opportunities as they were presented to me," she said. Pemmie's family has lived in various cities in the Southwest United States and in Johannesburg, South Africa. As Pemmie explained, "Through it all, my husband Reynolds has been my rock, my support system. Our family has embraced each relocation as a new adventure that we could share together."
Upon their return from South Africa, Pemmie and Reynolds decided to settle in Covington in order to be near children and grandchildren. In addition to the couple's blended family of seven children and their spouses and partners, they have upwards of 15 grandchildren and great grandchildren. "I've learned that life is meant to experience. We are meant to learn from them and to share our knowledge and good fortune with others," she said.
One of the things that attracted Pemmie to the Oil & Vinegar concept was the "experience" of it all. While at a conference in Idaho, Pemmie visited an Oil & Vinegar store, recalling, "As soon as  I walked in, I was instantly attracted. The amazing smells and spices reminded me of places I had visited in Italy. I was even more intrigued when a salesperson greeted me and said I could taste anything. The 'try before you buy' experience made so much sense. Most people try on clothes that they'll wear on the outside of their bodies. It stands to reason that they should do the same for the things they put inside their bodies."
Pemmie returned home and almost immediately began looking into franchise opportunities with Oil & Vinegar. In performing her due diligence, she also researched the health benefits, history and uses of olive oil in cooking. The more she learned, the surer she became that she wanted to open a franchise in this area.
"I've always had an innate understanding of how to pair different flavors in cooking. It was something that was honed from an early age, as I watched my mom put different ingredients together in her own cooking. It continued throughout my adult life in my travels across the globe, experiencing a variety of international flavors and traditions," she said. "At Oil & Vinegar, we know the orchards and farms where our products are grown and produced, which assures high quality ingredients."
All Oil & Vinegar staff refer to customers as guests—a nod to the company's emphasis on providing a positive experience. "We treat people as if they were in our own homes. We want them to be comfortable, to be able to taste and ask questions. Our goal is to show them the right products for their cooking or entertaining needs," she said. The Store is divided into worlds: starters and apps, sauces and dressings, herbs and spices, sweets, and oils and vinegars with 50 varieties on tap. They also offer personalized gifts along with gift baskets to suit all needs.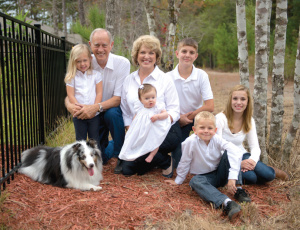 Because they moved every four to five years, the family lived the philosophy of "bloom where you are planted." Pemmie became involved in each community where they lived. Now entering its third holiday season, Oil & Vinegar has already made its mark on the business community and the Northshore community as a whole.
In addition to receiving the "Out of the Box Running" Award by the St. Tammany West Chamber of Commerce last year, Pemmie is a 2014 graduate of Leadership St. Tammany and president of Women of Infinite Possibilities (WIP), an effort that touches the lives of thousands of women through volunteer work and personal empowerment training. She is also actively involved with the Chamber, the Covington Business Association, Louisiana Restaurant Association and the National Restaurant Association's Pro-Start program to provide practical skills to high school students interested in the culinary arts. She and her beloved Blue Merle Sheltie, Branson, also help raise the spirits of many Northshore residents by visiting nursing homes, assisted living facilities, schools, libraries and day care facilities by volunteering with the local Love of a Leash chapter.
A sports person and adventure traveler, Pemmie said Oil & Vinegar is both an adventure and a calling. The store fulfills her dream of owning a family business—three daughters, Rena, Sheri and Katie, work in the store with her and Reynolds and other family members can be found helping out on weekends grilling and restocking shelves.
"Family means everything to us, and I am so fortunate that we get to work together in this endeavor," she explained. "Each one of us brings something to the party."
Oil & Vinegar is located in the Pinnacle Shopping Center, 6111 Pinnacle Parkway in Covington. 985-809-1693, Louisiana.oilandvinegarusa.com.