The temperature is rising so think cooking outdoors. As a prelude to the Sophisticated Woman July publication and the Foodies and Friends article on grilling, I thought it was time to ask our readers for their favorite summer recipes as well as share a few more of Foodies and Friends favorite grilled specialties.
There is no limit to what can be grilled.
Earlier this year, Christina Baldwin, "Little Girl, Big Knife," shared her recipe for Baked Oysters with Chorizo and Fennel (Feb 2015).
Christina also introduced me to one of her favorite new kitchen toys, SOS shells. Shop local and grab a dozen of Sonny Schwing's Original Shells, SOS, made in Covington. These stainless steel oyster shaped shells are versatile and can be reused. Fill them with oysters, other seafood mixtures or according to Sonny, anything, even pralines, and place them on the grill or in the oven.
Gayden received an early birthday gift before we went to the beach recently; SOS shells. This gave him the excuse he needed to experiment with the new shells on the grill and in the oven and perfect Christina's recipe with oysters and fennel as well as Drago's style charbroiled oysters.
While we had the grill fired up, we decided to throw on a couple of other favorites to accompany the oysters. Fresh grilled local vegetables so quick and easy and grilled corn Café Habana style.
Grilled Veggies:
The local vegetables at the Farmer's Markets are perfect for grilling now. Choose an assortment of your favorites: Yellow squash, zucchini, eggplant, particularly the small Japanese ones, asparagus, mushrooms and multicolored peppers. Brush the vegetables lightly with oil before placing on the grill. We have a vegetable basket that we place the sliced vegetables in which makes the process almost fool proof.
After the vegetables have reached the desired consistency and have a little char, remove and arrange on a platter. Mix 2 TBSP olive oil, 3 TBSP Balsamic vinegar, salt, pepper, 2 cloves of minced garlic, and fresh chopped herbs from your garden such as basil and rosemary. Whisk all together and pour over warm vegetables. Serve at room temperature.
Send your favorite outdoor grilling recipes so we can share with Foodies and Friends. It's getting hot in here…..
Oysters, Charbroiled, Drago's style
When Gayden makes these with the SOS shells, he sprays the shells lightly with a little cooking spray. Then he places several oysters in each shell depending on the size of the oyster. Do not overload!
 Ingredients:
2 sticks butter, melted
2 TBSP finely chopped garlic
1 tsp Italian seasoning
1-2 lemons, juiced
3 -5 dz oysters on half shell
3 TBSP grated parmesan and Romano
½ C Italian bread crumbs
 Directions:
Mix butter, garlic, lemon juice and Italian seasoning. Combine cheeses and Italian breadcrumbs in a small bowl. Heat up grill (or oven to 400) and put oysters in the shell over the hottest part. Baste generously with seasoned butter allowing some of the butter to drip onto coals and create smoke. If you are baking these in the oven you can just pour a little butter mixture over oysters in each SOS shell then top with cheese and breadcrumb mixture. Sprinkle a lot of the grated cheese and bread crumb on top of each oyster on the grill. Oysters are done when the edges are curly and the sauce puff ups a bit.
Grilled corn on the cob
I am always looking for an excuse to visit New York and hate to admit it but sometimes it is for the grilled corn at Café Habana in Nolita. As you will see, this is not necessarily a low fat way to prepare corn. However, you may be willing to sacrifice all thoughts and concerns of calorie intake when you taste this traditional Latino style street food. The corn is a perfect balance of smokiness from the grill, combined with the creamy mayo-crema fresca, spiced with the chili and cayenne and finished off with a squeeze of fresh lime. You can do this at home…go ahead and give it a try. You will not be sorry.
Ingredients:
Corn on the Cob, husked
Slather:
1 part mayonnaise
1 part sour cream or crema fresca
Garnish:
Cotija Cheese, grated
Cayenne Pepper, Chili Powder
Lime, cut into wedges
Directions:
Husk the corn and char the ears on a grill.

Mix the sour cream/crema fresca with the mayonnaise.
While the corn is still hot, slather it with the cream mixture.
Roll the corn in grated cotija cheese.

Give it a healthy sprinkling of cayenne pepper and chili powder.
Serve with lime wedges.
This is summer!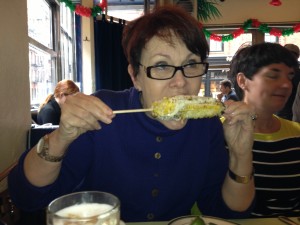 ---
---